Plate Heat Exchangers (PHE)
Plate Heat Exchangers (PHE) are heat exchangers made of thin sheets of corrosion resistant metals compressed in between two metal frames. The function of a Plate heat exchanger is to cool down or heat up a particular flowing liquid. This is done by applying thermodynamics concepts to transfer heat from two counter current flowing liquids of different temperatures.
External Structure
The heat transfer Plates are made of thin sheets of corrosion resistant metals such as stainless steel or titanium that are press-formed with a corrugated pattern on the surface and sealed with synthetic rubber gaskets, which seals the flow channel and directs the fluid into alternate channels. Such Plates are suspended, supported and aligned by guide bars and are tightened with bolts between a fixed and a moveable frame. The overall heat duty can be adjusted by modifying the number of heat exchanging Plates.
Flow of Fluid and Heat Exchange Mechanism
Heat transfer A and B-Plates have identical pattern, wherein a simple upside-down turn will make each Plate into one and another, so as to obtain a different flow channel controlled by the gasket line. Furthermore, with the start Plate (D-Plate) having portholes with double sealed gaskets and ends with a blinded E-Plate, this construction ensures that the fluids do not come into direct contact with the frames.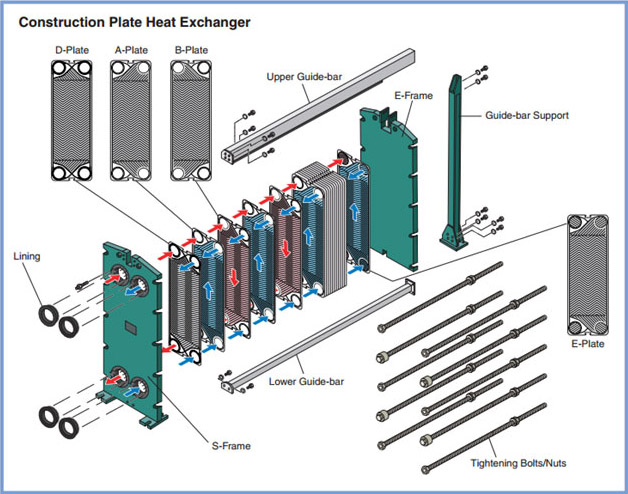 Comparison of Plate Heat Exchanger VS Shell and Tube Heat Exchanger
Plate Heat Exchanger

Shell and Tube Heat Exchanger

Made of a bundle of heat transferring tubes that is contained inside a cylindrical shell

Structure

Made of layers of high-pressure compressed Plates, secured by two solid metal frames

Heat transfer occurs when one of the fluids flow through the tubes while the other fluid flows through the shell at the same time

Heat Transfer

Complex Plate corrugation patterns warrant a high heat transfer rate whilst creating a high turbulence to prevent adhesion of impurities on the Plates

Low efficiency as the tubes have a high tendency to be clogged by slurry

Performance

3 to 5 times higher performance due to the crossed arrangements and corrugations of the Plates, giving the system a high pressure resistance

Cleaning and maintenance are much more complicated as the tubes are intertwined inside the shell

Maintenance

Ease of maintenance by simply removing the nuts and bolts used to tighten the structure